There are always reasons to start things. Reasons that flame the spark in our souls, reasons that keep us awake all the night, reasons that push us beyond our limits. It is always the decisions we make that make us who we are and choosing to start is the best decision we can ever make. No matter the outcome and the hardships in the journey, it is always wise to choose to start.
We are all in the process to make this world a better place and to do so even in the smallest way, we need a companion with us for we all know how lonely it is on the top.
A companion that extends our personality, a companion that moulds itself to suit us and helps us in all what we need to accomplish.
One who helps us share our successes and gain courage to start over when we fail.
One who lets us explore the realms of the unknown and never stop discovering.
One who lets us clearly see our vision and the goals as they are.
One who makes us experience more and fills it with good ones.
As we embark on a journey to
fulfill
our dreams and change the world, the new
moto
e promises to do all of it and even more.
The real purpose of the phone was to connect us with people and they were great in doing so. With the changing times, we always wanted our phones to do a little more and hence the smartphone was born. But with the ever rising expectations, we needed a device that could seamlessly make our lives better in ways more than one without being a burden on our pockets and hence the new moto e was born. It is crafted precisely to do all what you need it to do.
The lens through which we see.
I see myself twisting my wrist and clicking pictures. I see myself posing for those random face selfies with friends. Life becomes meaningful when we share our happiness and let others feel what we do and keep our loved ones always closer than our contact lists.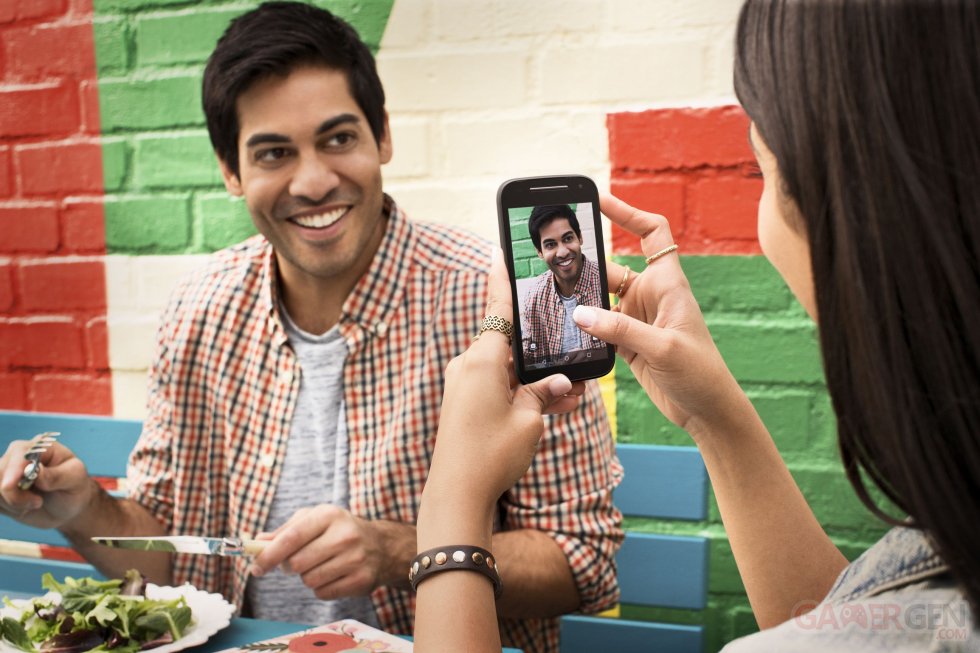 Moments would pass and no one would notice unless we capture them at the right moment. The Quick capture seems just wow. We are humans and can make mistakes, a little early or late and we lose the perfect frame. How easy it becomes with Burst mode at our disposal, we never have to worry about getting the perfect clicks and a treasure of Instagram likes, it will become a part of our lives with the new moto e.
Who doesn't likes Snapchatting, now we will love it with the front-facing camera and always be at the moment. A new mirror for us, smiling to ourselves will now become easier.
The fuel we need.
We need our companion up and running all the time with us, while scheduling the next week, messaging a friend, watching a cool video or simply listening to our favourite songs. We need it to keep up with our energy levels and the new moto e for that purpose has an all-day battery life which promises to be with us in all our happenings.
It can be saddening to see our phone die of battery at the moments we need it the most. Worrying for it now stays in the past. We can enjoy our lives by going further and longer without stopping to recharge.
The beaming light.
What is life without having the ability to see beautiful things. When we have a smart phone with us, those beautiful things are in the form of pictures of our loved ones, videos that amaze us or the ones that keep us in splits, playing cutting edge games that we can play all day long or simply glancing through the sleek and elegant user interface of the new moto e. A stunning display makes all of this possible, the sharpest you can get.
Beauty without durability is fragile. It is fitted with a Corning Gorilla Glass that is tougher than any mishandled situation. We need not worry about the resilience of the beautiful display any more. This is not it, an anti-smudge coating that will always keep our phone looking new is an additional extravagance. Moreover, this is water resistant! Can it get any better?
The tech behind.
When we keep running and hustling for getting things done, the new moto e keeps up with our pace. It is powerful enough to assist us in what we do and never stops to catch a breath. A quad-core processor so fast that it keeps us going at blazing speeds, no matter the circumstances. That is what we need in an era where life travels at the speed of light.
It all depends on how the user interface looks, how the phone operates, to what extent is it intuitive and things only someone like Google can perfect. It comes with Lollipop, their latest addition to the world's most popular operating system. We no longer have to glance at untidy looking interfaces anymore, it is beautifully elegant with material design.
The elegance
I no longer have to worry about dropping my phone anymore, it is designed meticulously well to feel great in our hands as well as provide a grip that would help in holding this piece of masterpiece better. Design is always the way how it works and the new moto e takes care of it.
The signature curved back that is ergonomically designed to fit our hands shows how much care has been taken to balance technology with design and it is always a winning combination.
Like I earlier said, our perfect companion is the one that extends our personality and moulds itself to suit us. The new moto e does it brilliantly through the customizable colourful bands that can change the accent of the phone and yet provide a firm grip to hold on to. It feels extremely exciting to change the accents of the phone daily to new colourful ones than stick to the one provided by default. Customization gives us more power and signifies our ever changing but strong personality.
Every other imaginable thing.
It only becomes better with what comes as additional features that silently help us daily and never get noticed much. It will now be extremely easy to ask the new moto e to not bother us while we are engaged with our important or while we are deep in sleep. With just a subtle glance we can know of all that is important by just engaging in an implicit way. The dual accelerometers adds those extra things we have always loved about moto.
It is hard to explain how much you love something, and with the new moto e it becomes even harder. On my way to conquer great milestones, to become successful, to change the world, I #ChooseToStart a remarkable journey ahead with the new moto e.